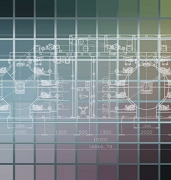 NEW EUROFLEX CASINGS PRESSES

Specialist press manufacturer, KPG have added to their range of purpose designed Euroflex casing presses, with the launch of a 520mm web width version and presses for use with solvent based inks.

Fitted with closed chamber printing units and air drying, the new explosion proof presses are suitable for printing all types of casings and polybags, whilst the 520mm version is also ideal for printing packaging films.

All three web widths of 260mm, 400mm and 520mm are available as semi-automatic or fully automatic presses. The semi-automatic version is fitted with two AC servo driven accumulators, two unwinds and two rewinds, with the press automatically slowing to 25m/min, allowing the operator 45 seconds to splice the new roll. The press then automatically returns to the original production speed. The fully automatic version utilizes a Martin Automatic flying or butt splicer and turret rewinder, providing non-stop production. Both configurations result in no down-time for roll changes and no waste.

All Euroflex Casing Presses utilize steel temperature controlled central impression drums and can be configured for single or dual-pass. The dual-pass models provide extremely cost effective production, with the same colours being printed on both sides of the web and the option still remaining for single pass printing of a wider web.

Up to 18 colours are possible, using either twin 1800mm central impression drums, with fully automatic registration front-to-back printing or a single CID dual-pass. Flexo varnish units can also be specified.

All KPG casing presses are fitted with a unique scraper system, allowing for 360 degree printing – a must when producing all-round graphic designs for maximum point-of-sale impact. Chiller and chill rollers, BST web guides, double-sided corona treater and web tension control system are standard features.

Euroflex presses have a mechanical speed of 150m/min and a maximum operating speed of 100m/min (depending on design).

A second Euroflex 12-colour, fully automatic press will shortly be installed at SLAVA, a leading Russian supplier of printed casings. This new press, built to the same specification as the first, will be their second KPG press to be installed at the company within three years.

A video programme featuring Euroflex casing and film presses is available on request.

ENDS

For further information contact KPG distributors .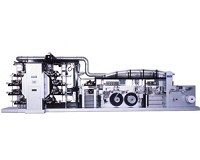 NEW 8 COLOUR FLEXO PRESS FOR TUBE LAMINATE PRINTING

Specialist press manufacturer, KPG have added to their range of purpose designed machines with the launch of a single drum Euroflex 9-colour press, including varnish. Specifically designed for printing ABL/PBL tube laminates, the press provides non-stop production.

Fitted with two AC servo driven accumulators, unwinds (2) and rewinds (2), the press automatically slows to 25m/min, allowing the operator 45 seconds to splice the new roll. A strategy resulting in no down-time for roll changes and no waste. Should slitting after printing be required, then the press can be fitted with two additional rewinds for narrow edge leading tubes.

The eight open chamber flexo units are located on a single temperature controlled 1800mm dia steel central impression cylinder. Print units are fitted with fully retractable print cylinder shafts to facilitate quick and easy plate changes.

Following the launch of the Euroflex Tube Press at TokyoPack in September, KPG have installed the first press at a leading Japanese printer of tube laminates. The customer specified 8-colours in order to meet the increasing design demands of the Asian market for high quality printed graduations on tubes. Up to three similar colours can be used to create the graduation, leaving one print unit for special branding/company logo and four for the CMYK colours.

With a web width of 270mm the press incorporates an extended web path to allow good varnish flow and a high gloss finish.

Fitted with GEW interstation UV lamps plus final cure with 'E' brick controls, other features include chill roller and chiller system, corona treater and static eliminator, BST web guides with infra-red sensors, web tension control and video scanning system.

With a mechanical speed of 150m/min and a maximum operating speed of 100m/min (depending on design), the press output easily fills the capacity of tube forming equipment ie 1 X AISA and 2 X KMK (PSG).

As well as the full range of tube laminates, this roll-to-roll press is also able to provide high quality printing of films from 25 – 350 microns. The press is also available with a 400mm web width.

Serious interest is now being shown in this technology by major European tube printers and similar Euroflex presses for printing polyamide casings and polybags have been installed in Poland, Russia, Slovenia and the Ukraine.

A CD of the press is available on request.

ENDS

For further information contact KPG distribiutors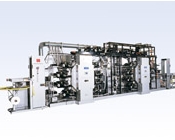 18 COLOURS FOR CASINGS

Believed to be the only press of its type in the world, KPG Europe has installed an 18-colour 270 flexo press for printing artificial food casings at the Supravis Group S.A. Based in Bydgoszcz, Poland, Supravis is recognised as being a major producer of food packaging for the Polish market, as well as exporting some 50% of their output.

Utilising twin temperature controlled impression drums; the Euroflex Press is also ideal for printing packaging films, polybags and labels, as well as all types of artificial casings.

A unique feature is the capability to produce 360o printing, enabling all round product graphics, which is a major benefit when high impact packaging designs are needed. This is achieved by a purpose designed scraper system mounted on each drum. Fitted with programmable controls, the dry ink is removed using a suction system. For both sides printing, the front-to-back, drum-to-drum, auto register guarantees exact registration.

Designed for non-stop production, with fully automatic roll change, operating speeds of 80 - 100m/min (dependent on application) can be easily maintained without loss of print quality. Available in two web widths of 270mm and 400mm, the press has been designed for use with specially formulated cationic inks – a must for printing polyamide casings. Conventional free radical uv flexo inks can be used when printing films.

Eight open chamber flexo print units complete with GEW high powered interstation lamps, are located on each 1800mm diameter drum. The UV flexo varnish units complete with final cure, mounted above each print section, enables both sides of the web to be varnished. An innovative feature is the solid metal anilox sleeves, which are distortion and temperature resistant.

Press down-time is minimized with the inclusion of a flying splicer and turret rewind, also fully retractable plate sleeve mandrels. The AC servo infeed which maintains constant web tension whether the substrate is 25 micron film or 300 micron polyamide and chill rollers coupled with the temperature controlled central impression drums maintain a constant web temperature irrespective of substrate. Other standard features include a double-sided corona treater, four BST web guiding systems and twin-camera web scanning system.

Glenn Miller, Technical Sales Director of KPG (Europe) said that "it took more than 18 months to finalise the technical specification of the press to meet the application requirements of Supravis. The result is a high performance press meeting a very specific application. This has been a complex but rewarding project, working closely with Supravis; to take a new design concept, to press manufacture and finally press installation".

This Euroflex specialist press is available with various configurations including a dual-pass version. This is a very cost effective option based on a single impression drum, turn-bar with cross-over unit and web compensator. Fitted with six or eight print units, the same colours can also be printed in register, on the reverse of the web. A semi-automatic version with festoons, allows the web to be manually spliced without stopping the press. A start/stop press is also available.

A CD of the press is available on request.

ENDS

For further information contact KPG distributors